---

REVIEW

The total number of bird species on our 'Garden List' has now reached 38. Of these, 36 species put in appearance in 2010.

There were 7 species (Common Gull, Woodpigeon, Collared Dove, Chiffchaff, Brambling, Lesser Redpoll and Yellowhammer) that were new to us during the year. Of special interest was a Northern Long-tailed Tit, which briefly visited our nut feeders along with 4 other 'ordinary' Long-tailed Tit in November.

Grey Wagtail and Goldcrest were the only 2 species previously seen in our garden that were not seen in 2010.

Of the birds that we had seen in previous years, 7 species showed an increase in numbers (as seen at any one time) over 2009: Lesser Black-backed Gull, Feral Pigeon, Chaffinch, Greenfinch, Goldfinch, Bullfinch and Siskin.

7 species remained static: Sparrowhawk, Pied Wagtail, Song Thrush, Great Tit, Coal Tit, Rook and Reed Bunting.

Of concern is the fact that the numbers of 15 species fell in 2010: Black-headed Gull, Wren, Dunnock, Robin, Blackbird, Fieldfare, Redwing, Willow Warbler, Long-tailed Tit, Blue Tit, Magpie, Jackdaw, Carrion Crow, Starling and House Sparrow.

Juvenile birds of the following species were seen in the garden during the year, presumed to be breeding locally: Starling, Blackbird, Greenfinch, House Sparrow, Magpie, Robin, Great Tit, Blue Tit, Goldfinch, Chaffinch, Jackdaw, Woodpigeon, Dunnock and Bullfinch.

---

Bird Table Visitors Book (and other garden happenings)
---
28th December 2010:
Very grey and wet. Still some snow on the ground but disappearing fast. Rook, 2 Male and 2 Female Brambling. 27 Siskin. 4 Blue Tit, 1 Male and 1 Female Great Tit, 1 Robin, 1 Female Blackbid, 1 Male and 3 Female Chaffinch, 7 Goldfinch, 1 Male 1 Female and 1 juvenile Greenfinch, 1 Male Reed Bunting and a Grey Squirrel.
---
27th December 2010:
Grey, wet and yucky. It never really got light today.
A grey cat saw off all the birds first thing and it took a while for them to return.
8 Brambling, 1 Long-tailed Tit, Male Reed Bunting. Sparrowhawk overhead.
---
Boxing Day 2010:
Temperature hovering around 0C. Grey with light wind from the northeast.
Female Redpoll, at least 11 Brambling, Reed Bunting pair.
---
Christmas Day 2010:
Typical! With all the 'festive' weather we have had of late, today it rains! Temperature up to 1.5C. A grey day.
A first for the winter: a pair of Lesser Redpoll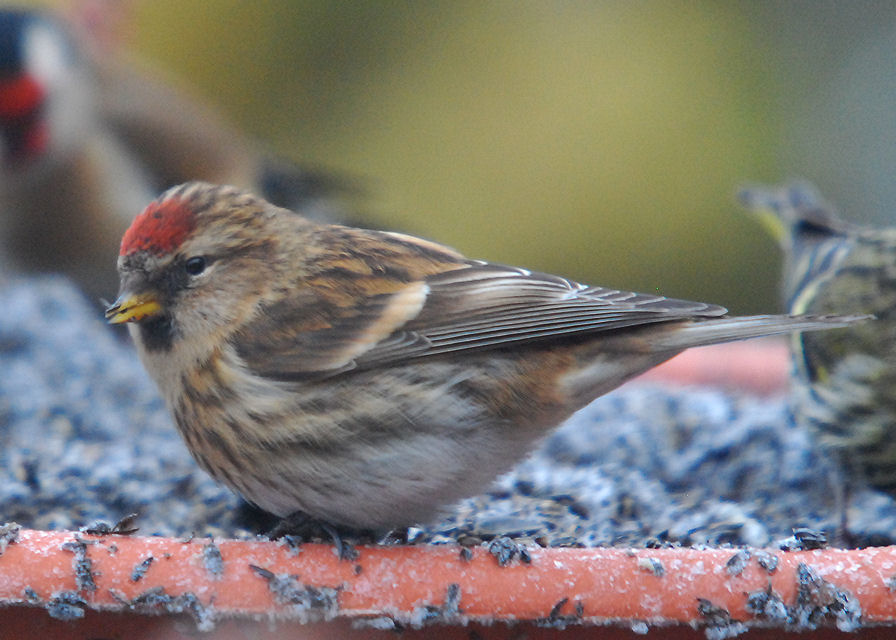 Brambling, Reed Bunting.
---
24th December 2010:
A bright sunny, very cold day.
3 Reed Bunting.
---
23rd December 2010:
Temperatures still way below zero. Cloudy morning but brightened up in the afternoon.
Female Pied Wagtail, pair of Reed Bunting, 11 Brambling and a male House Sparrow on top of the 'usual'. 4 Cormorant overhead.
---
22nd December 2010:
A brighter sky, mainly cloudless. Temperature at 10.00am -10.5C.
Brambling numbers up to 9. Pied wagtail. Male Reed Bunting.
---
21st December 2010: The shortest day of the year
Ditto on the weather front with patches of freezing fog. Temperature at 20.30 was -9.5C.
Pretty much ditto on the bird front with up to 80 Siskin now around. A particularly agressive male Chaffinch.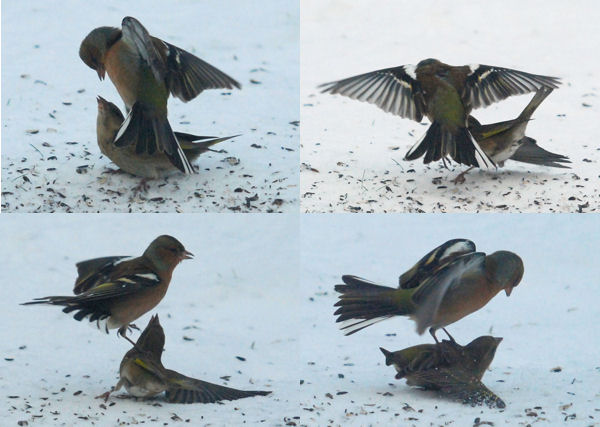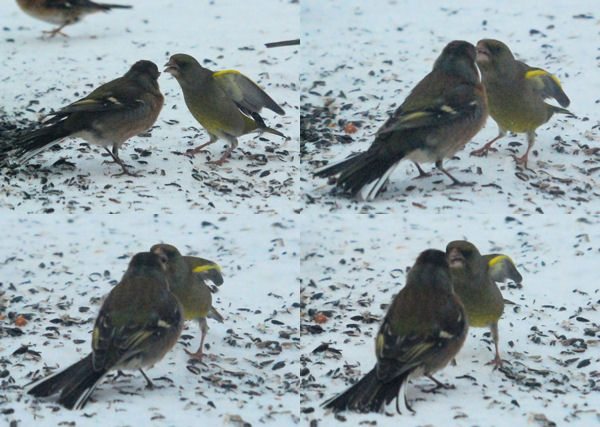 ---
20th December 2010:
Yet another grey day, no wind and a maximum temperature of around -3.5C. As darkness fell, the temperature fell towards -double figures.
Our 37th garden species with a Common Gull coming down with a Black-headed Gull. Brambling numbers up to 6. A Sparrowhawk flew overhead scattering the 60 odd finches feeding in our garden (Chaffinch, Greenfinch, Goldfinch, Siskin and Brambling). Male Reed Bunting.
---
19th December 2010:
Temperature down to -10C overnight. Another grey day with no wind. Light snow flurries am.

---
18th December 2010:
A similar day to yesterday.
5 Brambling.
---
17th December 2010:
Heavy frost overnight. Grey skies with sub-zero temperatures. No wind.
3 Brambling in first thing (2 males, 1 female). Pied Wagtail (Our first since January 2010). 13 Siskin. A total of 7 Blackbird (4 adult males, 2 juvenile males and an adult female). 5 Brambling spent the afternoon with us.
Water feature well used for drinking by: Blackbird, Starling, Robin, Siskin and Goldfinch.
---
16th December 2010:
Rain overnight, still some snow remaining on the ground. At 9.00am another snowfall, not much but enough to turn everything white again. Wind begining to pick up from the northwest. Temperature sub-zero.
60+ Goldfinch still flying around and attracting the attention of a Sparrowhawk. 4 Brambling in garden with a further 8 in the trees behind and 3 Reed Bunting. A Common Gull overhead.
---
15th December 2010:
Another frost overnight. Mid-morning freezing fog. Wind: light, northwesterly. 2-3 inches of snow remaining.
Male Reed Bunting.
---
14th December 2010:
Grey, broken cloud. A very heavy frost overnight. No apparent wind.
---
13th December 2010:
Return of freezing conditions, still 3 inches of snow on the ground.
---
10th December 2010:
Still about 8 inches of snow on the ground but still thawing.
---
9th December 2010:
The thaw started in earnest around 11.00am.
---
8th December 2010:
Blue skies, sunshine and a really heavy ground frost.
Kestrel overhead.
---
7th December 2010:
Another bright, crisp sub-zero day. Blue skies and sunshine with no wind.
24 Geese flying west. A flock of 30 Siskin.
---
6th December 2010:
Snow started around 9.00 am and within three hours had replaced that lost by the recent thaw.
4 Geese flying southwest. Male Reed Bunting. Around 18 Chaffinch feeding in garden. Around 80 Goldfinch flocking locally. A pair of Goldfinch mating!

---
5th December 2010:
Another beautiful day but temperatures back to sub-zero. About three-quarters of the snow still remaining.
---
4th December 2010:
A beautiful day that belied the slow thaw that is happening.
---
3rd December 2010:
Very light wind again today, mainly grey skies with light snow at times. Signs of a thaw setting in towards dark.
Yet another newcomer to our garden this morning (one that I had never ever seen before): a male Brambling came in with our chaffinches and spent 15 minutes feeding from our feeders and the spill underneath.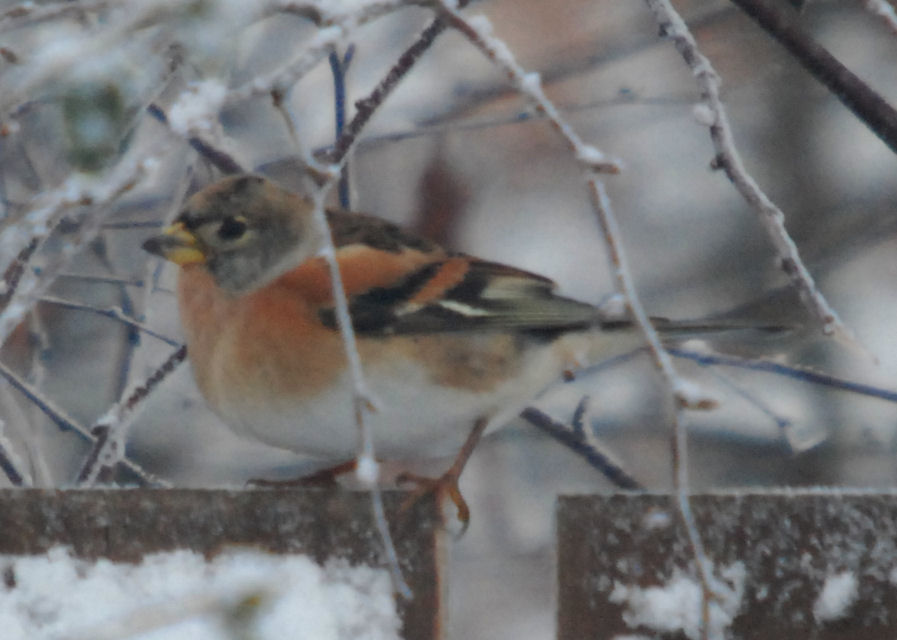 ---
2nd December 2010:
A quieter day on the weather front. Very light wind, sunshine and occasional snow flurries.
15 Geese flew south overhead and 4 Long-tailed Tit came to our feeders (no sign of the Northern one).
Another newcomer to our garden this afternoon: a pair of Yellowhammer came to see what we are offering. This is the 36th species of bird we have managed to attract.
---
1st December 2010:
Another 3 inches of snow overnight. More than a foot now covering the ground. More snow in the morning but a clear, bright early afternoon. Clouded over again at 3.00 and more snow! Wind light from the east.
A good start to December:
1 Robin, 8 Goldfinch, 5 Blue Tit, 8 Chaffinch, 2 Great Tit, 1 Coal Tit, 1 Dunnock, 6 Greenfinch, 2 Blackbird, 2 Bullfinch, 2 Siskin, 3 Starling, 1 Magpie, 1 House Sparrow and 1 Wren.
Overhead: 7 Whooper Swan (2 Adults and 5 juvenile birds) flew west, 1 Buzzard, 3 Lesser Black-backed Gulls, 1 Sparrowhawk, 8 Feral Pigeon, 2 Carrion Crow, 2 Rook, 3 Black-headed Gull, 2 Herring Gull, 3 Jackdaw and 1 Snipe.
---
30th November 2010:
Snow flurries throughout the morning, but temperature up and the beginning of a thaw. Partially cloudy with light wind from the east. Temperature down to -5 after dark.
25 Waxwing flew east overhead. A Kestrel overhead.
---
29th November 2010:
Another inch or so of snow overnight. Very grey this morning with a light northeasterly breeze. Brightened up with some sunshine but hardly enough to melt any snow. Further snow flurries after dark.
A pair of House Sparrow on nut feeder and a Sparrowhawk overhead.
---
28th November 2010:
Another half inch of snow, just to freshen everything up. Heavy grey skies this morning, no wind. Started snowing heavily at 08:00 and put another 3 inches of snow on the ground.
15 Geese flying west first thing. Birds aplenty, including 7 Starling, a Wren and a male Reed Bunting - the first we have seen since April. Buzzard overhead.
---
27th November 2010:
Possibly the most beautiful day you could imagine. About an inch of snow covering everything, blue skies, sunshine, no wind. Temperature rose from -5C to -1.5.
Chaffinches very busy. Golfinches drank from our water feature - the only unfrozen water available.
---
26th November 2010:
Heavy frost again overnight. Wall to wall sunshine, little or no wind. Again the groundfrost remained throughout the day. A light snowfall before bedtime.
Our Robin is still harrassing the poor Dunnock. A wren popped into to have a look at our water feature.
---
25th November 2010:
Another beautiful morning. Frosty with bright blue skies. Wind light from the northeast. As the morning wore on, clouds gathered and gave us our first snowflakes of the winter. Afternoon grey. The groundfrost did not lift all day.
Our first ever Collared Dove this morning (came in with 2 Feral Pigeons and was quickly away when they spooked). This is the 35th species of bird that we have managed to attract into our garden. 33 Geese flew overhead. Siskin and Goldfinch drinking from our water feature - all other sources frozen over. A second Robin landed and was immediately repelled by our current resident.
Just as it was getting dark, I noticed 5 Long-tailed Tit on our feeders. Despite the very poor light, I took some photographs and it was only when I looked at these that I realised one of the birds was in fact a Northern Long-tailed Tit with an all-white head!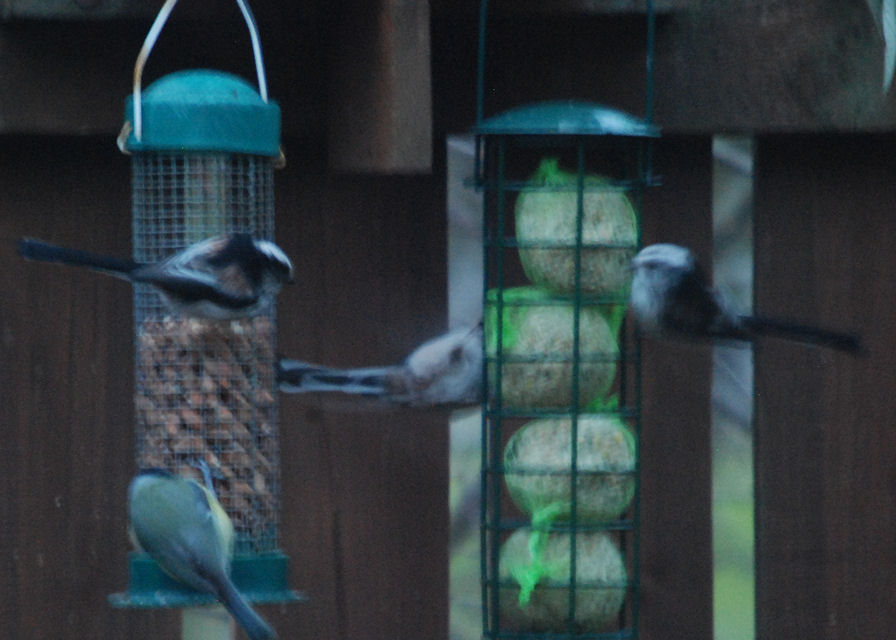 ---
24th November 2010:
Bright frosty morning, -3C. Pond frozen over. Wind light from the north.
A Robin took excetion to a Dunnock and physically attacked it. 30 Waxwing flew over. A Buzzard flew over pursued by 4 Jackdaw.
---
23rd November 2010:
Gentle wind from the southeast. Bright and Sunny with very few clouds. Temperature maximum 4C.
---
22nd November 2010:
Gentle wind from the east. Overcast.
Scraps from our weekend picnic went onto the shed roof and attracted a Carrion Crow, a Rook, 2 Jackdaw and 3 Lesser Black-backed Gull. 3 Black-headed Gull came for look without landing. A Collared Dove also flew over.
Still over 100 Goldfinch flying around. The adult Sparrowhawk twice unsuccessflly checked out our bird table again.
---
21st November 2010:
Another male Siskin hit our window this afternoon; fortunately it was only stunned and after 15 minutes or so, he recovered and flew off.
---
17th November 2010:
A very blustery day, no frost. Winds now from the southwest.
A redwing sat in one of the Silver Birches eyeing up our pyracantha berries but not doing anything more. A small flock of 5 Long-tailed Tits (our first since January 2009) visited our nut-feeders.
---
16th November 2010:
No frost this morning. Very quiet on the weather front although temperatures dipping sharply after sunset. Still 100+ Goldfinch flying around.
---
15th November 2010:
Our frostiest morning of the winter so far. Pond and Birdbath frozen over.Sunny with a gentle south-westerly breeze. Raining again by nightfall.
Robin and Goldfinch appreciated the drinking water available from our water feature.
---
14th November 2010:
The day could not have started any wetter! Fortunately the wind and rain abated mid-morning, leaving a cold quiet day.
A quiet day as far as our birds were concerned as well apart from a small flock of 6 Chaffinch and 60 or so Goldfinch flying around, a dozen of which made use of our feeders.
---
13th November 2010:
Westerly breeze much lighter today.
6 Swan flew over, not sure which species. Sparrowhawk hunting along the fence again. Cat no.2 (a black one with white paws) pounced from the conifer and took a small bird that I think was a great Tit. Grrrr!
---
12th November 2010:
Still a good westerly wind blowing but patches of blue sky. Rain intensified as the day wore on and the temperature just managed to creep into double figures.
A Sparrowhawk, this one an adult bird (I could see its blue back) hunting along the back fence and checking out our bird table. The Grey Squirrel was foraging in the flowerbed, presumably for nuts that have fallen from the feeder.
---
11th November 2010:
Moderate wind back from the west again. Another Rainbow morning, warmer but feeling colder in the wind.
Our first Starling since September came to one of our nut feeders. Heavy rain pm. What we lacked in bird variety was more than made up for by numbers. Up to 10 Blue Tit, 3 Great Tit, 2 Coal Tit, 5 Greenfinch, 6 Chaffinch, 12 Goldfinch, a Bullfinch, a Robin, a Dunnock, 3 Feral Pigeon, 2 Magpie and a Starling. The day ended very windy and very wet.
---
10th November 2010:
Bright, frosty morning with little or no wind.
Unfortunately a male Siskin died as a result of trying to fly through our kitchen window. The Sparrowhawk and Crow continue to assualt one another.
---
9th November 2010:
Wind still from the east, with showers. Rainbow. Temperature up to 6 Celsius but dropping to 0 as the sun went down.
---
8th Novembrt 2010:
Wind now coming firmly from the east. Top temperature of 6 Celsius - winter is a coming. The Sparrowhawk and a Crow took turns in chasing each other this morning. This afternoon the Sparrowhawk was back flitting between the trees in an effort to find prey - needless to say the Goldfinch had seen her coming and had long gone. What I am now sure is a young female Sparrowhawk, spent several minutes resting in a tree before resuming her efforts. Bad light and strong winds prevented any reasonable photographs. We had a Cormorant fly over.
---
7th November 2010:
Cars iced over this morning but beautiful blue skies and not a breath of wind. Our Sparrowhawk chased the Goldfinch but was again unsuccessful. The sight of her cutting through a flock of over 200 smaller birds was truly one to behold. Towards dark, the skies greyed over and the day finished with heavy squally showers.
---
6th November 2010:
Woke up to frost this morning. A quieter day weatherwise. Saw our first Wren in the garden since February and the Grey Squirrel helped itself to some peanuts on the shed roof. There is now a plan of our garden, along with photographs, via the 'our garden' link above.
---
5th November 2010:
Our Sparrowhawk was chased off by a Carrion Crow but returned to resume its hunting. Have yet to see her actually catch anything.
---
4th November 2010:
Goldfinch numbers steadily increasing with c300 birds flying around now. At least a couple of Siskin flying with them. Showery again, westerly wind.
---
3rd November 2010:
A male Bullfinch showed up today, the first one we had seen since September, although we have had the pleasure of a female bird on many occasions. Watched a superb flying display by a Sparrowhawk as it tried (unsuccessfully) to take a Goldfinch from our bird feeder. More showery today but still with a blustery westerly wind.
---
2nd November 2010:
A couple of female Siskin in with the Goldfinch flock today. Grey Squirrel on Bird table and an unwelcome visit from next-door's cat who killed a Goldfinch and broke down our Buddleia in the process. Heavy rain for much of the day and a strong westerly wind.
---
1st November 2010:
Goldfinches a-plenty! At least 60 birds flying overhead for much of the day. Also 11 fieldfare and a visit from a grey squirrel.
The Elder berries have been decimated but we have no idea by what! Starling (as per last year), Fieldfare or Waxwing (which have been reported not too far away recently)?
---
16th October 2010:
2 House Martin fly overhead.
---
15th October 2010:
The Grey Squirrel returned.
---
12th October 2010:
A female Sparrowhawk spends 7 or 8 minutes sitting on our fence.
---
7th October 2010:
A Grey Squirrel pays us a visit.
---
1st October 2010:
NEW VISITOR: Chiffchaff.
---
25th September 2010:
Our first frost of the winter!
---
24th September 2010:
Last Swallow seen over Wishaw.
---
23rd September 2010:
A pair of Siskin make a welcome return.
---
8th September 2010:
2 juvenile Bullfinch.
---
25th August 2010:
Last Swift seen over Wishaw.
---
15th August:
Our juvenile Dunnock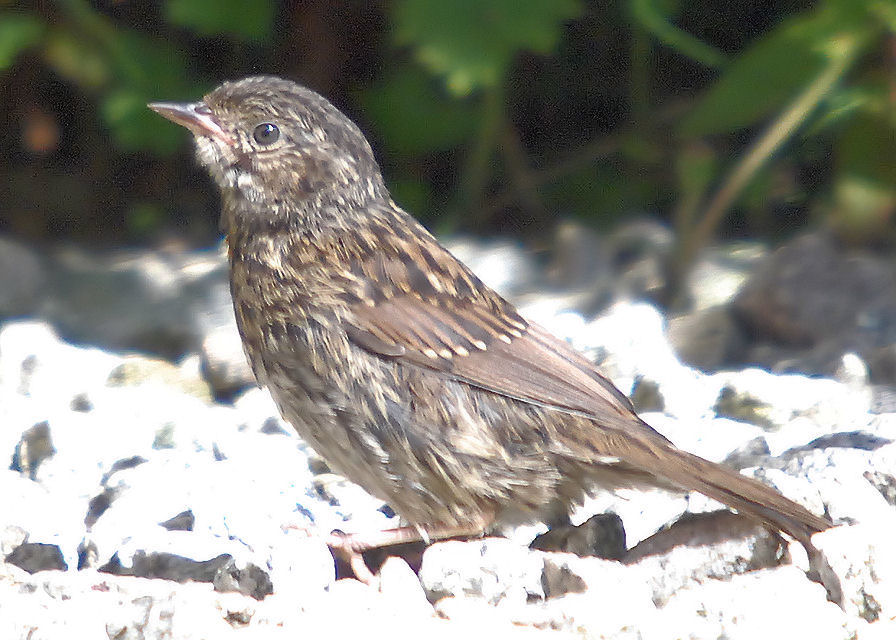 ---
14th August:
Our juvenile Robin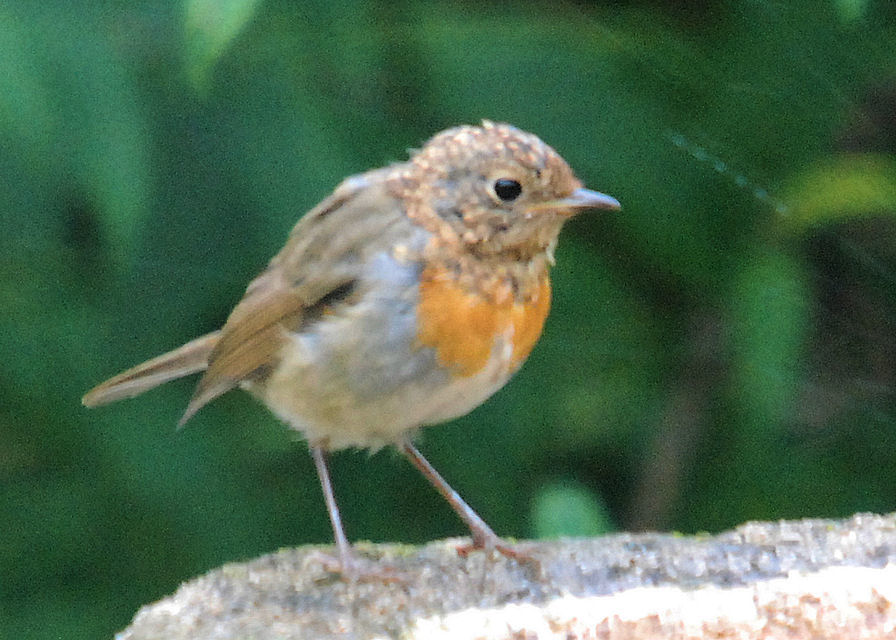 ---
Juvenile birds of the following species have all visited our garden this year and therefore can be assumed to be breeding in the vacinity:


Starling
Blackbird
Greenfinch
House Sparrow
Magpie
Robin
Great Tit
Blue Tit
Goldfinch
Chaffinch
Jackdaw
Woodpigeon
Dunnock

---
9th August 2010:
1 juvenile Dunnock.
---
24th July 2010:
1 juvenile Woodpigeon.
---
18th July 2010:
2 juvenile Chaffinch and 1 juvenile Jackdaw.
---
28th June 2010:
2 juvenile Goldfinch.
---
26th June 2010:
2 juvenile Blue Tit.
---
25th June 2010:
3 juvenile Robin and 1 juvenile Great Tit.
---
20th June 2010:
1 juvenile Magpie.
---
17th June 2010:
2 juvenile House Sparrow.
---
13th June 2010:
2 juvenile Greenfinch.
---
5th June 2010:
2 juvenile Blackbird.
---
2nd June 2010:
1st Juveniles this year: 6 Starling.
---
30th April 2010:
1st Swift overhead.
---
26th April 2010:
1st Swallow of the summer overhead.
---
26th March 2010:
5th batch of frogspawn.
---
22nd March 2010:
4th batch of frogspawn.
---
21st March 2010:
3rd batch of frogspawn.
---
20th March 2010:
2nd batch of frogspawn
---
19th March 2010:
Frogspawn.
---
At least 13 of our baby Goldfish made it through the winter together with our 3 remaining adults.
---
Bird Table Notes archive