Archived Diary Notes for 2008


---

29th December 2008

Greenhead Moss

My first Waxwing photographs. A charming pair who seemed oblivious not only of me but my camera as well!!!
---
14th December 2008
First time visitor to our garden - a female Reed Bunting.
---
8th December 2008

Moodiesburn
My first Dipper photographs.
---
7th December 2008
Two new visitors to our garden: Goldcrest and House Sparrow.
See 'The Reluctant Birdtable' for full details of our garden visitors and now includes a monthly summary.
---
3rd December 2008

Baron's Haugh
Cormorant.
---
2nd December 2008

Cramond
Turnstone, Redshank, Oystercatcher and Black-tailed Godwit.
---
1st December 2008

Drumpellier
Some lovely shots of Mute Swan breaking the ice.


Moodiesburn
A great afternoon: Goosander, Redwing, Fieldfare, Teal, Dunnock, Bullfinch, Buzzard and Treeceeper all photographed. To cap it all I also managed to capture two Roe Deer.
---
29th November 2008

Weedon
Photographed a Kingfisher from my Premier Inn window!!!
---
24th November 2008

Drumpellier
Goldcrest in plenty. Had the bonus of a Brown Rat run across the path in front of me.
---
21st November 2008

Baron's Haugh
Goldcrest and Long-tailed Tit very active this morning. Three adult and one juvenile Whooper Swan on the Haugh.
---
19th November 2008

Greenhead Moss
Large flock of Goldfinch, a Kestrel, Pochard, Tufted Duck, Mallard, Black-Headed Gull, Mute Swan and a female Lesser Redpoll.
---
18th November 2008

Edinburgh Canal
Less than an hour spent along the canal but a profitable time. A female Sparrowhawk, hunting along the hedgerow; two Buzzards trying hard to ignore the mobbing Crows and two Cormorants perching in a tree.
A Tawny Owl flew across the A73 just south of the old Law Hospital (NS85) at around 18.45.
---
5th October 2008

Baron's Haugh
At last a day with less than 100% moisture in the air!
First (photographed) Shoveler. Large flock(s) of Goldfinch.
---
17th September 2008

Baron's Haugh
I went out this morning, determined to photograph a male Water Rail - I failed in this but had other successes. As I arrived at the Marsh Hide, one of the largest frogs I have ever seen jumped across the recently cut reeds. To the right of the water, a Roe Deer was grazing. Then something spooked the lethargic Mallard - a fox, a very healthy looking animal, walked unconcernedly between me and the water. As if these unexpected mammmals were not enough, a Kingfisher alternated between perches on the reeds at the far side and my first (photographed) Whooper Swan flew over.
Return visit this afternoon, new species photographed: Dunlin and Green Sandpiper. More good views of female Water Rail but poor light precluded more photographs.
---
6th September 2008

Daventry Country Park
A juvenile Ruff photographed feeding on mudflats amongst a large flock of Lapwing. Close encounter with a young Song Thrush. 4th September 2008

Baron's Haugh
Returned to the spot of my 'missed' Water Rail sighting yesterday and to my surprise, after an hour or so, I was rewarded with as good a sighting as one is likely to get of a female Water Rail.
Whilst I was waiting, a single Little Ringed Plover fed on the mudflat on the other side of the Haugh. (See main page for pics)
---
3rd September 2008

Baron's Haugh
Great Spotted Woodpecker and Gadwall photographed. A very interesting conversation with the RSPB officer who informed me that I had just missed a female Water Rail, only 20 feet from the hide, not 10 minutes before.
---
2nd September 2008

Baron's Haugh
Snipe photographed on the Haugh today.
---
27th August 2008

Greenhead Moss
A solitary male Pochard, sitting out in the middle of the lake.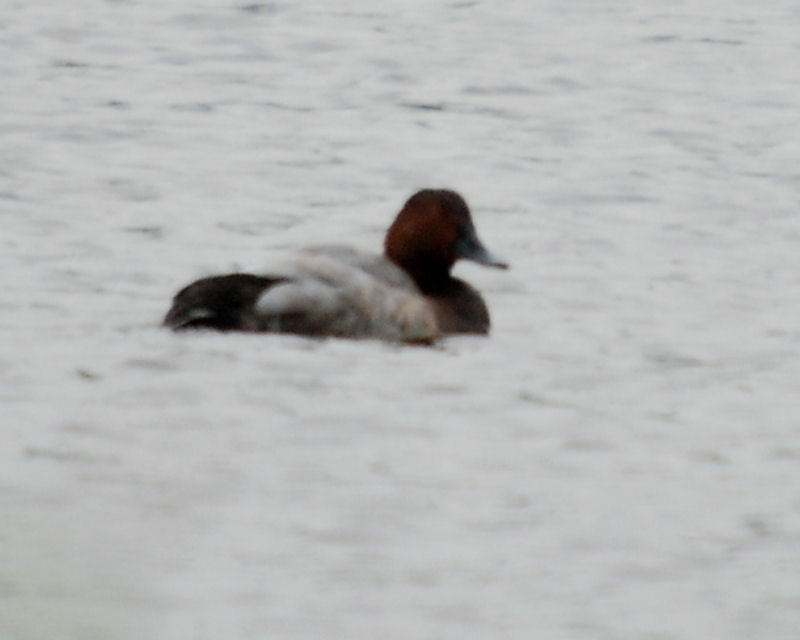 ---
25th August 2008

Lesmahagow
Watched a Sparrowhawk seize a swallow from a television aerial. Where are the pictures? Where was my camera?
---
23rd August 2008

Baron's Haugh
At last, a day with some light in it to take photographs!
Two new species added today: Black-Tailed Godwit and Teal. Also some better shots of Kingfisher.
---
14th/15th August 2008

Daventry Country Park
Curlew Sandpiper, Common Tern, Green Woodpecker and Willow Tit take my 'photographed' total to 100 species - not bad since I've really only been trying since the beginning of June.
I also managed to obtain 'improved photos' of many other species.
---
12th August 2008
Another busy day at 'the office' stuck in my car.
---

7th - 11th August 2008

County Tyrone
Although not strictly a 'birding' trip, I was in Ireland to photograph Greyhounds for a trainer's website, I had some memorable bird moments:
Meadow Pipits feeding on our guest house balcony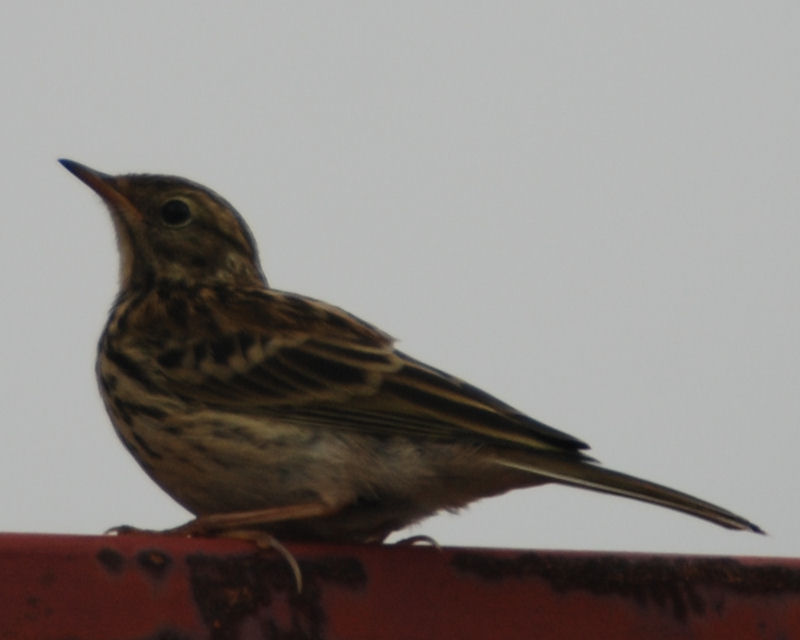 Swallows and House Martins filling the air overhead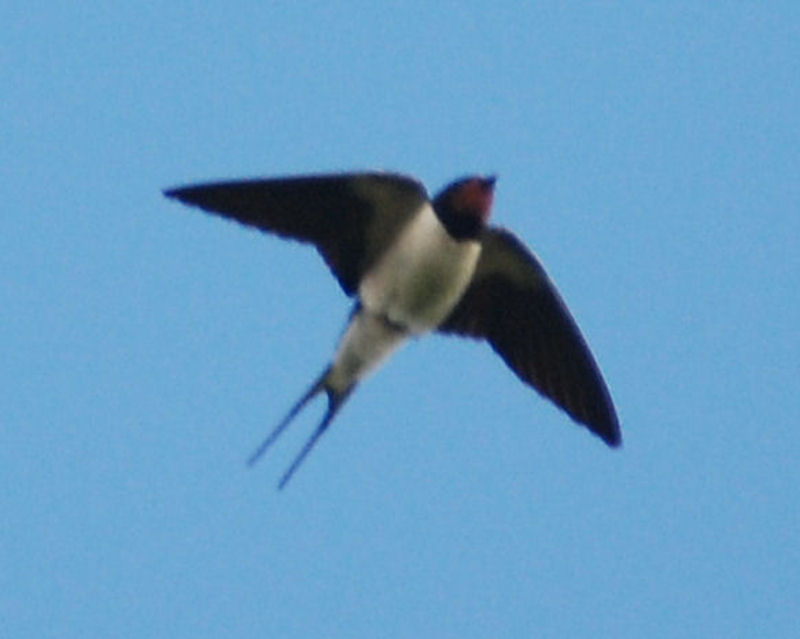 Not to mention the Swallow nesting in the barn at the Ulster American Folk Park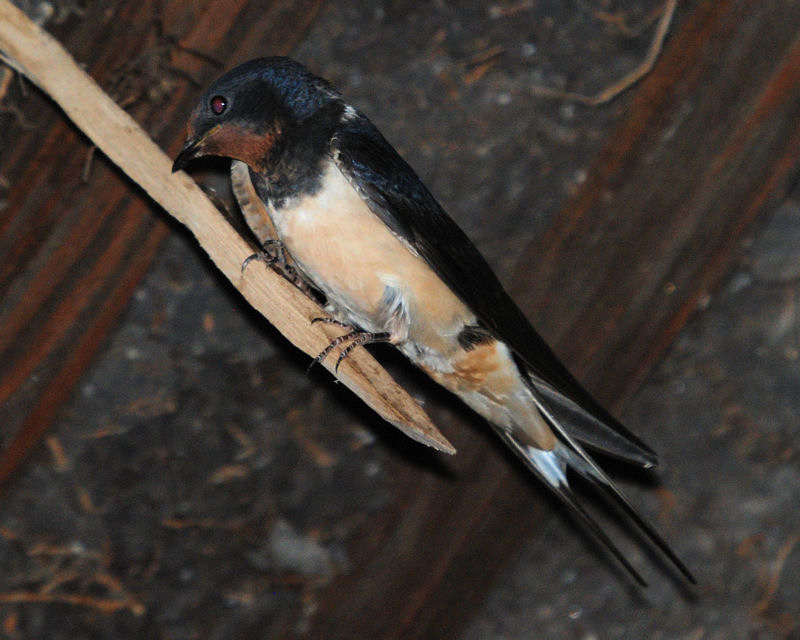 A young Robin who wouldn't get far enough away from my camera for me to photograph it properly!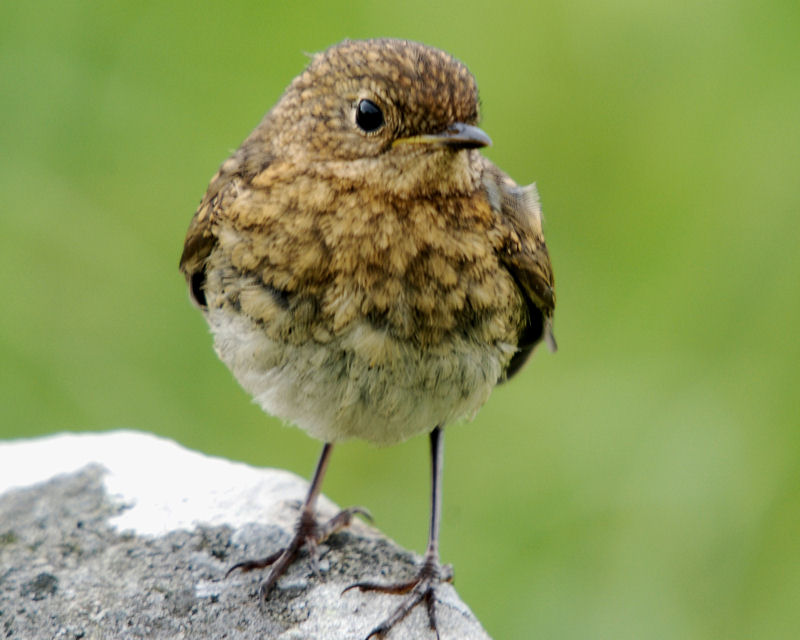 A Sparrowhawk being mobbed by Swallows (any photography hindered by a wasp that was intent on crawling up inside my nose)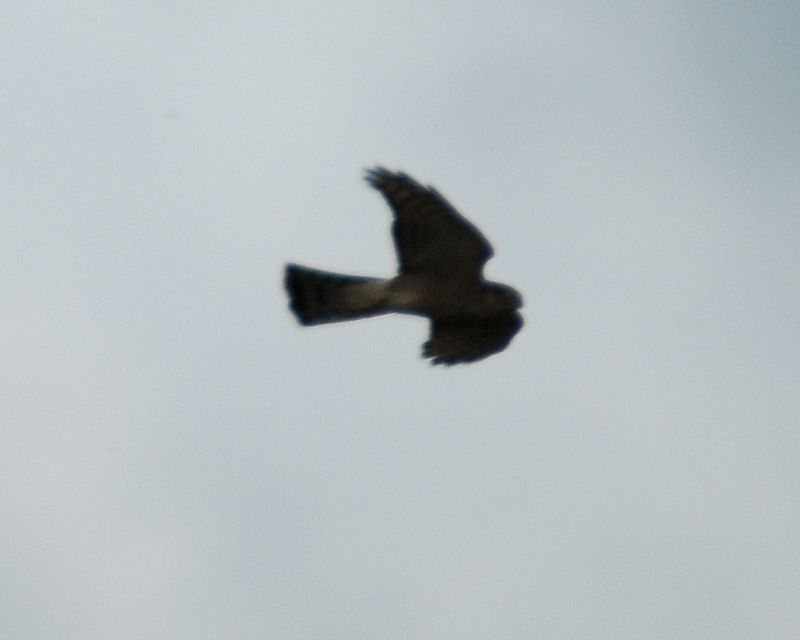 The Sparrowhawk and a Hooded Crow brings my total to 96 species photographed.
---
6th August 2008
Monsoon conditions! Contented myself with bird-tabling and was rewarded. (See The Reluctant Bird Table, above).
---
4th/5th August 2008
Stuck in my car all day both days, no chance to get the camera out. Did see a buzzard perched on a mound of soil which had been moved to build a new road.
Am preparing for a long-weekend visit to a part of Britain I have never visited before.
---
3rd August 2008
With the weather being decidedly uncooperative, we spent the day at home, hoping that our warblers might show themselves. They didn't.
However the Blue Tits did show how readily they were prepared to adapt to our new nut feeders (See 'The Reluctant Bird Table' above.
---
2nd August 2008
A very quick visit to a new (to me) pond in Cambusnethan, showed much promise and I will visit again in the near future.
---
1st August 2008

Greenhead Moss
During an hour when it was not raining (much), I found the Moss very quiet. Took the opportunity of taking some close up shots of Coot and Moorhen (both with young) and of Mute Swan and a young Black-headed Gull. All of these provided photographs good enough to be included on the respective Species pages.
---
31st July 2008

Overton
Saw a good example of a Carrion x Hooded Crow (with pale belly) but did not have time to stop. Another entry on my list of places to visit.

Baron's Haugh
I'm getting the breaks with the birds but not the weather nor subsequent photos. Spent some time this morning on the River Clyde, had six sightings of Kingfishers and came away with one very blurred image! Have put it on my main page as it is a photograph of a recognisable bird but clearly, I will have to spend more time here. Got a fairly good shot of a female Mallard in flight (See Mallard species page) which shows off the blue feathers nicely.
Even a little bit of sunshine would help me to get some reasonable photographs!
---
30th July 2008

Baron's Haugh
The good news... I photographed two of the species that I thought I'd be hard pushed to find. The bad news... The photographs are not very good (to say the least!) Spotted Crake and Water Rail!!! (See main page)
All this in a half hour visit to Baron's Haugh, the birds were photographed within five minutes of each other in a high wind and through moving grasses which goes some way to explain the quality of the pictures. My excitement at seeing these birds for the first time and subsequent camera shake explains the rest!
Oh, and by the way, I was treated to an excellent flying display by a Buzzard as well.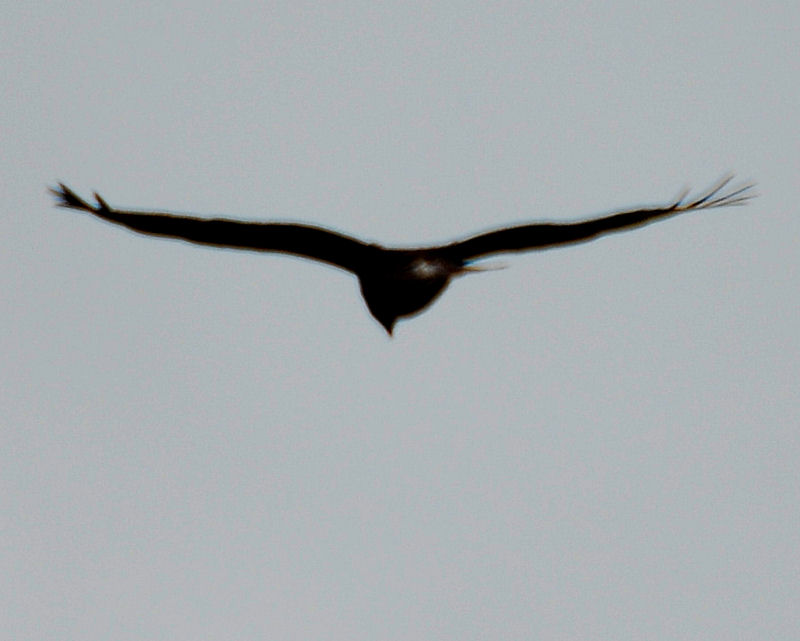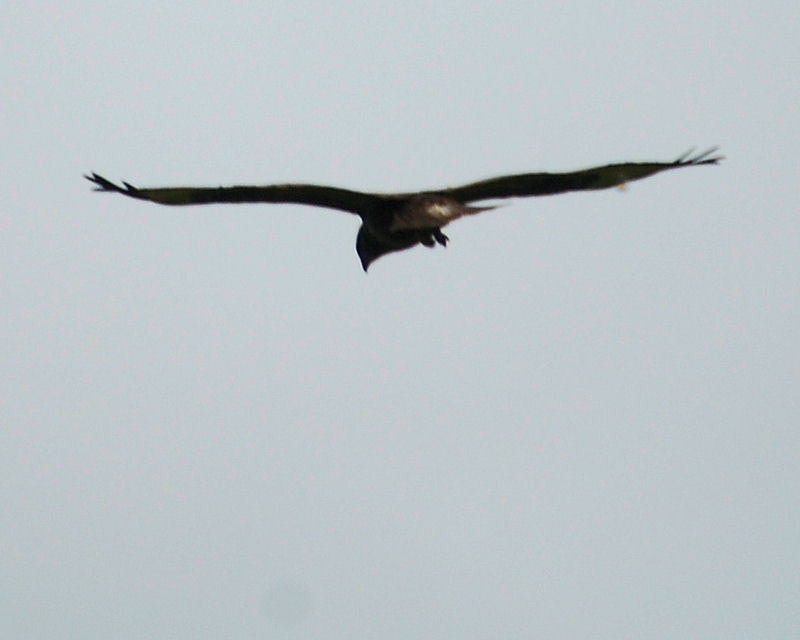 ---
29th July 2008
No time today for any 'watching' but I did have good close up encounters with a Buzzard and a female Kestrel - no chance of any photos as I was driving!

---
28th July 2008
Shotts
Got excited by some small finch-like birds high up in some conifers. When I enhanced and enlarged the photographs, they all turned out to be Chaffinches! (Not that I've got anything against Chaffinches)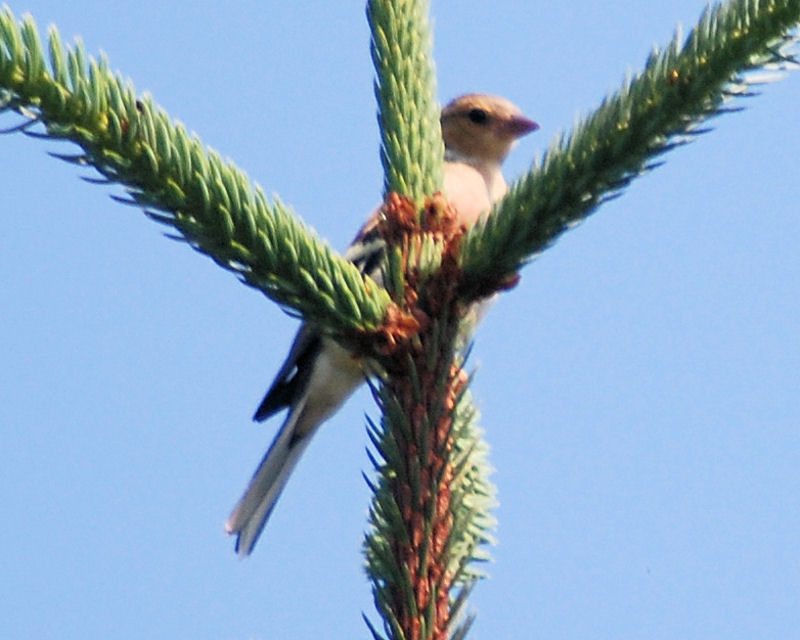 A lively group of (Willow?) Warblers.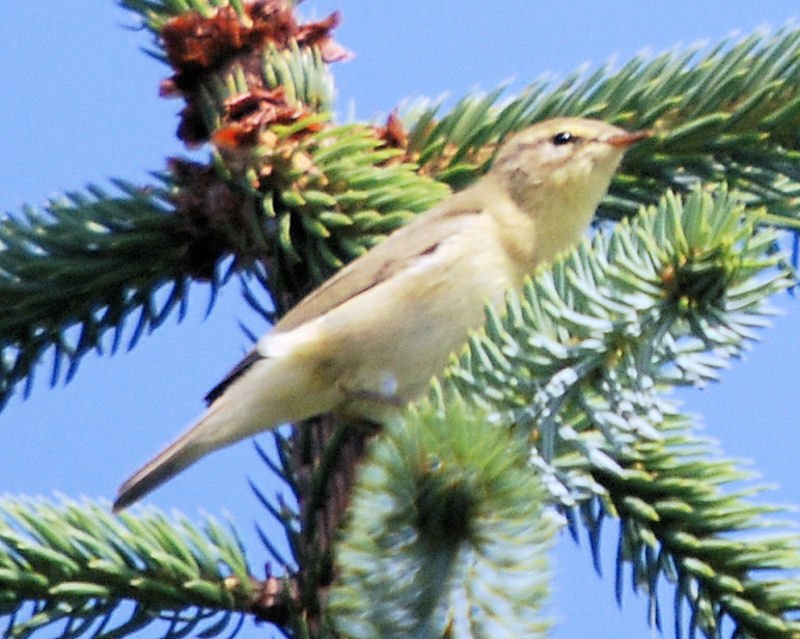 A very singing Song Thrush.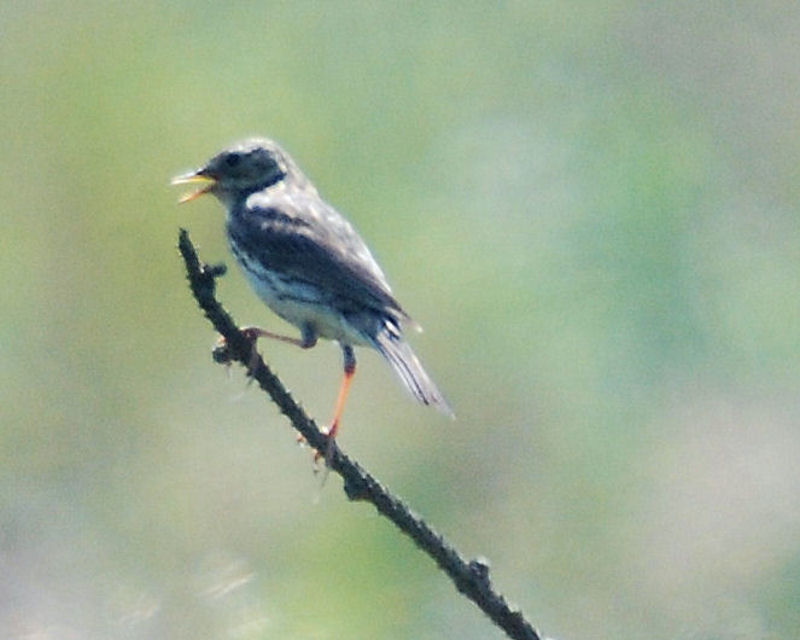 Glenboig
Good shots of a Grey Heron - some of which have made it onto the Grey Heron species page.

Moodiesburn
I was treated to a close encounter with a group of female House Sparrows. Some good shots - one on my main page.
Greenfinch drinking in a small burn. (See Greenfinch species page)
Three Long-tailed Tits taking spiders from an electricity pylon. (See Long-tailed Tit species page)
Tufted duck on Johnston Loch.
---